We're ever so lucky to have such wonderful customers who take to the internet to review our service. We've placed some examples below, however for the most up-to-date reviews please visit us on Facebook and TrustPilot.
---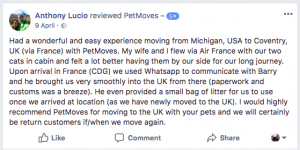 "Had a wonderful and easy experience moving from Michigan, USA to Coventry, UK (via France) with PetMoves. My wife and I flew via Air France with our two cats in cabin and felt a lot better having them by our side for our long journey. Upon arrival in France (CDG) we used Whatsapp to communicate with Barry and he brought us very smoothly into the UK from there (paperwork and customs was a breeze). He even provided a small bag of litter for us to use once we arrived at location (as we have newly moved to the UK). I would highly recommend PetMoves for moving to the UK with your pets and we will certainly be return customers if/when we move again."
---

"My wife and I were relocating from Helsinki, Finland to the UK. We were shocked and a little bit panicked when we discovered that we could not fly our large Rottweiller cross into the UK. After much research we found Barry and Pet Moves. He really helped put our minds at rest and every detail was looked after. The journey went like clockwork. Thank you Barry. Brilliant service!!
---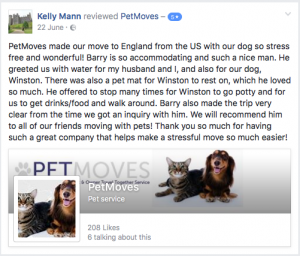 "This is the second day for our cats with Ukrainian citizenship in the UK. As we don't get how one can treat a pet like a piece of luggage, there was no question for us other than to fly from Ukraine to France to relocate from Kyiv to London. You can't use a direct train to travel with your pet, and a change of trains and using a taxi for the tunnel does not seem to be an easy thing to do. Luckily for us there is such a company as Pet Moves that offers their services for a comfortable move. Barry has sent all the necessary information to ensure my documents are in order, gave thorough instructions so we would know every step of our journey and overall seemed to be very helpful and responsive in communication. The pick up was easy, the van was comfortable, Barry offered a lot of stops. However, the main point is that our scared cats finally felt secure and immediately fell asleep in the car! The only thing that woke them up – the sound of a can opening. No one would speak better than these fluffy tails how grateful they are for the way they were treated. The service is worth every penny, I would totally recommend it and would use it again if I need to. Thank you!"
---
"Four cats… no problem.
We had a complicated move of four cats from the central US to England via France. Barry gave us great advice on both ends of the France-England leg so we were able to go in prepared.
Barry himself is a warm and interesting person, and he was very thoughtful about his human and feline passengers, making periodic stops in pleasant locations so we could refresh ourselves. Barry went the extra mile (literally) to get us through horrific traffic to Paddington Station.
Overall, Barry was compassionate, knowledgeable, and sincerely helpful. I'm a very critical person, and I can't think of any areas of improvement. This was definitely the smoothest portion of our journey, and I wholeheartedly endorse Pet Moves."
---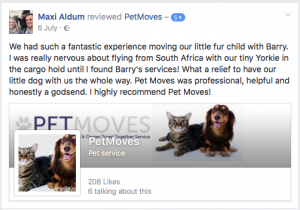 "We had such a fantastic experience moving our little fur child with Barry. I was really nervous about flying from South Africa with our tiny Yorkie in the cargo hold until I found Barry's services! What a relief to have our little dog with us the whole way. Pet Moves was professional, helpful and honestly a godsend. I highly recommend Pet Moves!"
---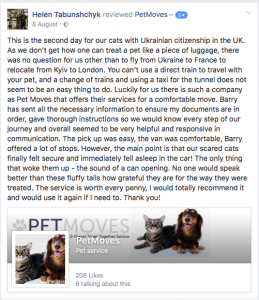 "This is the second day for our cats with Ukrainian citizenship in the UK. As we don't get how one can treat a pet like a piece of luggage, there was no question for us other than to fly from Ukraine to France to relocate from Kyiv to London. You can't use a direct train to travel with your pet, and a change of trains and using a taxi for the tunnel does not seem to be an easy thing to do. Luckily for us there is such a company as Pet Moves that offers their services for a comfortable move. Barry has sent all the necessary information to ensure my documents are in order, gave thorough instructions so we would know every step of our journey and overall seemed to be very helpful and responsive in communication. The pick up was easy, the van was comfortable, Barry offered a lot of stops. However, the main point is that our scared cats finally felt secure and immediately fell asleep in the car! The only thing that woke them up – the sound of a can opening. No one would speak better than these fluffy tails how grateful they are for the way they were treated. The service is worth every penny, I would totally recommend it and would use it again if I need to. Thank you!"
---
"I have used this service twice! Transporting my pet from France to the UK after our holidays. I absolutely love this service. We were picked up from out hotel and left at our chosen destination. Throughout the trip we were offered stop for the comfort of our dog, water was always available for my pet, it was just great! I felt very welcomed both times and would definitely use this transportation method again! Thank you!"