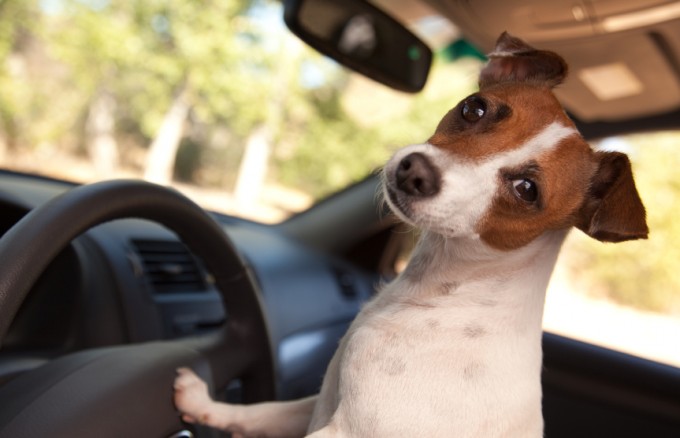 How to Move your Pets to the UK
I am not going to cover how to prepare your pets for the move, with vaccinations and paperwork, as this topic is covered comprehensively here. What I am going to discuss is the logistics of making your booking and the actual flight to the UK and then compare the standard route with the simpler alternative that we took with Pet Moves last year.
Flying into The UK With Your Pet
Initially, we made enquiries about a direct flight from the United States into the UK with one of the approved airlines. We could hardly believe that moving a pet to the UK would be so difficult, and potentially quite unsettling for our pets and we were very pleased to discover Pet Moves' service and avoid all the hassel. This is what you would need to do to fly into the UK with your pet without Pet Move's help:
If your flight is during the summer months phone your airline to check when your pet is permitted to fly (some Airlines have a no fly time when you can not fly your pets to the UK)
Phone the pet cargo center to ensure that they have a space for your pets.
Then phone the airline to book your flight
Phone pet cargo again to actually book your pet's flight. You will have to have the following information to book their flight:​
Actual size of the container and its weight

The weight of your pet​
On the day of the flight bring your pet to the Cargo Center five hours before the flight

If the weight and size of the container and your pet is inaccurate some airlines may turn you away!
Pay for your pet's flight (this amount can in some cases be more than the cost of your ticket)
Leave your pet at the Cargo Center
Your pet will be transported to the UK in the hold of an aircraft (not necessarily the one you're flying on)
When you arrive at Heathrow you will have to go and collect your pets at the Animal Center, which is not at "Arrivals" in Heathrow but in another part of the Airport. Here you will have to wait until they have checked all your papers and then you have to pay them a large amount of money over and above what you paid for their flight. Sometimes your pet's papers won't be ready until the following day, so you will have to stay overnight somewhere near the Animal Center.
Travelling to the UK with Pet Moves – The Hassle-Free Alternative
If you want an easier and less traumatic experience for your pet you can fly to Paris where Pet Moves will meet you at the Airport. Here's the more convenient option:
Book your flight to Paris Charles De Gaulle (CDG) Airport. If you book with Air France then they will allow your pets to fly as excess luggage which is significantly cheaper than flying in cargo to the UK. If your pet is small enough you can even take them in the aircraft cabin with you.
Phone or Email Pet Moves with your flight number, airport and time of arrival – they'll give you a quote which includes carrying you, your family, your pet(s) and luggage from the airport to the UK via Eurotunnel. The Eurotunnel ticket and customs fees are also included. You can pay over the phone with your credit card which is a protected transaction.
You do not have to go to a Cargo Center – you take your pets with you and they will get booked as excess luggage when you get your boarding ticket and book your luggage in.
All the animals go in a separate pressurized cargo area even if they are booked as excess luggage.
When you arrive in Paris, you collect your pets at the same time as your luggage and there are no extra fees to pay then either.
Pet Moves will meet you in the airport and help you get to your car with your family, luggage and pets.
Pet Moves will now drive you and your pets to your destination in the UK and help with getting your pet(s) through British Passport Control. They use air-conditioned comfortable VV Transporter Shuttles to drive you and your pets to your home. No renting of a car or waiting for your pets overnight. Just a relaxing trip home with your pets alongside you.
We highly recommend Pet Moves if you're thinking about flying to the UK with pets, it's a much better alternative – much more convenient for you and kinder to your pets. It was also a good financial decision because by the time you add up the difference of how much cheaper it is to fly to Paris with your pets, the cost of an overnight stay near the Cargo Center, the fees and other costs – using Pet Moves really made sense.
Lovely Miranda
2021-04-11
We got our pet dog,safely home from Paris to London. Thank you PetMoves,for making this happen smoothly and without any stress.
jose Ignacio labbe
2021-01-05
Great service! They took us from CDG París to our Home in Manchester with My partner, My 3 dogs, a cat and 6 suitcases. We arrived safe and sound. Very recomended service
Jonathan Teixeira Salema
2020-12-16
Great experience overall! we barely had to wait at the Paris airport and everything went smoothly. It was great to be able to travel with our pet instead of sending him by cargo.. I highly recommend this service!
Cristina Liquori
2020-12-14
Such peace of mind and a sigh of relief. Thank you Barry and Edward for taking care of us and our two cats again for our return trip home from London to the USA. It was amazing to rely on your excellent service, which allowed us to keep our dear pets with us throughout our journey back home. Your business is fantastic and appreciate your personalized service and attention. We made it home safely with our pets with no fuss!
The UK does not allow pets to fly into the country in the passenger cabin of commercial aircraft. Our 17 year old cat is too old to travel in the hold; that really wouldn't be fair on him. They do allow pets on private aircraft, but having investigated the cost of doing this from the US to the UK, that idea was quickly struck down! While searching for alternatives, we came across Barry and Pet Moves. This turned out to be a great alternative. Barry was able to help verify the paperwork needed from our vet and the USDA/APHIS approvals that were then required. We landed at CDG and Barry was waiting outside the terminal exactly at the spot we had agreed. The journey to the French coast and the train takes a few hours, but Barry has several options to stop along the way, all excellent. We had opted for the flexible train ticket and this meant that we boarded the train almost immediately, with almost no delay. The drive from the train in to Central London takes about 90 minutes. Barry dropped us at the door of our Airbnb (to serve out our quarantine). All in all, an excellent service. For anyone planning to make this trip I suggest you: * Pay close attention to the lock down rules in the UK and France. If in doubt, talk to Barry. * Make sure you allow time to get your vet documents back from the USDA. We contacted several USDA offices in the US before we found one that seemed responsive and to offer quick turn around (in Conyers, GA). They turned around our documents on the day that they arrived. Quite excellent. * Under the rules on the day that we made this trip, you needed a Covid test within 72 hours of boarding. With no guarantee that the results will come back in time, this is probably the riskiest part of the whole adventure. We each ended up getting two covid tests on the same morning. This was fortunate as only one of our results came back in time. All in all, a great experience. Update. After being dropped off by Barry, I discovered that I had left a battery pack (used to charge my iPhone on the long trip) in the back of Barry's mini van. Barry was kind enough to mail it back to me. Quite excellent. Thank you.
I had an incredible experience with PetMoves and I highly recommend them. I found the company through Google so I had no idea what to expect and was very stressed out about moving with two cats abroad from the US (during a pandemic no less!). But working with PetMoves was wonderful, helpful, and put me at ease. They clearly love animals and have expertise transporting them from Paris to London. Everything could not have gone smoother—from pickup to border control—and my driver Edward was kind, fun to drive with, and went above and beyond. Would use them again!
Magali Collonnaz
2020-10-04
I used Pet Moves' services twice for my cat and never had any issue. Barry is friendly, professional and always does his best to help you during the journey. I strongly recommend Pet Moves if you want to travel to the UK or leave the UK with your pet without any stress.
My wife and I travelled with our 2 yr old Cockapoo from Los Angeles to London with Pet Moves...amidst the global coronavirus pandemic - and it was EASY! Our cockapoo travelled with us in the cabin from Los Angeles to New York, New York to Paris, and then finally from Paris to London with Pet Moves, who advised us on the forms we needed to complete to ensure that our pet could cross the border into the UK without having to go through quarantine, and who scheduled a relaxing journey for the final leg which allowed us enough time to stretch our legs, eat/drink, and yet still arrive in London in the mid-afternoon. Barry and his team were responsive to any queries I had from the moment I first enquired through to our doorstep in London and I cannot recommend Pet Moves enough if you're looking to transport your pet internationally without the need for separation or quarantine.
I just moved to London from California and had a GREAT experience using Pet Moves. Originally, I thought the only way to get my pup, Indy, into the UK would be via ferry from Amsterdam or for her to fly in cargo—but but of these options involved risk and major hassles. Going via ferry would have required getting from the airport to ship, stopping at a local vet to get an EU pet passport, checking Indy into cargo on board the ship, collecting her afterwards, and then arranging travel into London once we docked in the UK. And flying in cargo was a risk I didn't want to take. I was so pleased to have found Pet Moves as an alternative! The owner, Barry, picked us up from CDG as soon as we landed and from there on out I literally didn't have to make any decisions about anything. I felt completely trusting of Barry and my husband and I (and Indy) were able to relax from the moment we got in the van—which was VERY welcome after we traveled so many hours. ____ To you reading this review—I WAS YOU a month ago! Pet Moves seemed like the perfect way to get Indy into the UK from the USA, I thought I had found a loophole. It's not too good to be true! We booked with Barry and could not be happier with our decision. We moved on a tight budget, and I would 100% pay the same (or more!) if I was doing this trip again. I don't normally write effusive reviews or SHOUT when I'm typing but literally PET MOVES IS THE BEST WAY TO GET YOUR DOG INTO THE UK. Cheers, Barry!